mittler@rz.uni-potsdam.de
---
Abstract
The development of the longitudinal modes in resonators with SBS-mirrors is investigated as a function of the length of the start resonator cavity and the SBS-based resonator cavity. The Eigenmodes and the optimal operation properties are presented.

---
Longitudinal mode structure of Nd-lasers with phase conjugating mirrors based on stimulated Brillouin scattering in different materials
Kay Mittler, Martin Ostermeyer, Axel Heuer, Ralf Menzel
Institute for Experimental Physics
University of Potsdam
Am Neuen Palais 10
14469 Potsdam
Germany
Phone: (03 31) 9 77-11 04
Fax: (03 31) 9 77-11 34

Mirrors based on stimulated Brillouin scattering (SBS) are useful for phase conjugation and passive Q-switching in laser resonators. Especially the beam quality in high average output power solid state lasers can be increased up to the theoretical diffraction limit. Average output powers of 27 W with beam qualities of better than 1.2 * DL were reported [1]. For further improvements, the detailed investigation of the temporal development of longitudinal and transverse modes of such resonators with phase conjugating SBS-mirrors is of interest.
It was reported earlier, that a resonance condition should be fulfilled for the cavity length (resonance length) with respect to the Brillouin frequency of the SBS material to obtain a stable operation of the laser [2]. With every round-trip a frequency shift occurs due to the reflection of the laser light at the SBS mirror. Thus several frequencies appear during the Q-switch pulse duration [3]. In this paper the influence of the Brillouin shift on the longitudinal mode structure and the Q-switch process is investigated in detail.


Therefore the lengths of the SBS- and start resonator were varied. The measurements were performed with SF6, CO2 and Xenon as SBS-material. The temporal pulse structure was observed with a photodiode (PD) whereas the frequency spectrum of the output pulses was observed with a Fabry-Perot-Interferometer (FPI) as shown in figure 1. The temporal pulse structure was analyzed further by a Fourier Transformation (FFT). The start resonator was stable for every setting and the fundamental mode volume remained constant.
The longitudinal mode structure is mainly a function of the SBS-resonator length. The Brillouin-shift occured in the FPI-patterns only. The resonator frequencies of the SBS-resonator can be seen in the FFT of the Q-switch pulses (Fig. 2). Pulse stability and output energy do not depend on the SBS-resonator length. Furthermore length tuning of the start resonator is necessary for stable SBS-Q-switch operation (Fig. 3).

---
References:
[2] M. Ostermeyer, A.Heuer, R. Menzel, Conference on Lasers and Electro-Optics 1996, Vol. 9, OSA Technical Digest Series, p. 447
[2] A. Kummrow, R. Menzel, D. Schumann and H. J. Eichler, International Journal of Nonlinear Optical Physics, 2, (1993) 261
[3] B. Barrientos, V. Aboites and D. Damzen, J. Optics (Paris), 26, (1995), 97


---
Figure captions:
Fig. 1: Experimental setup
Fig. 2: FFT of a Q-switch pulse of a 156 cm SBS-Resonator with SF6 ( c/2L = 96 MHz )
Fig. 3: Length tuning of the start resonator with SF6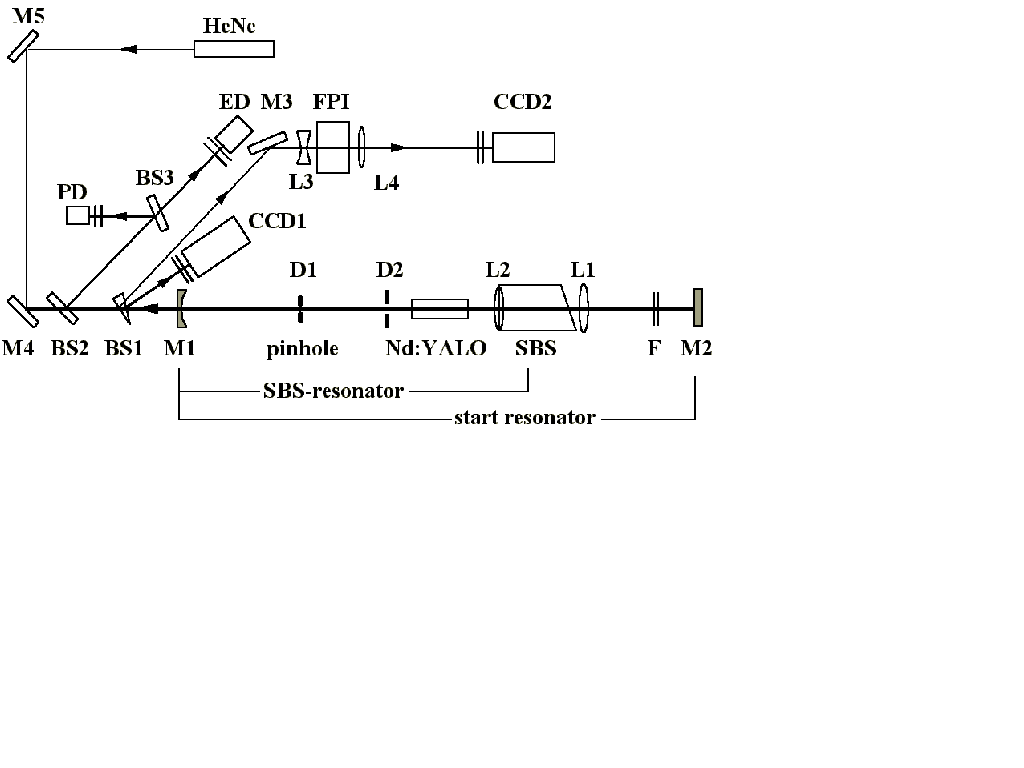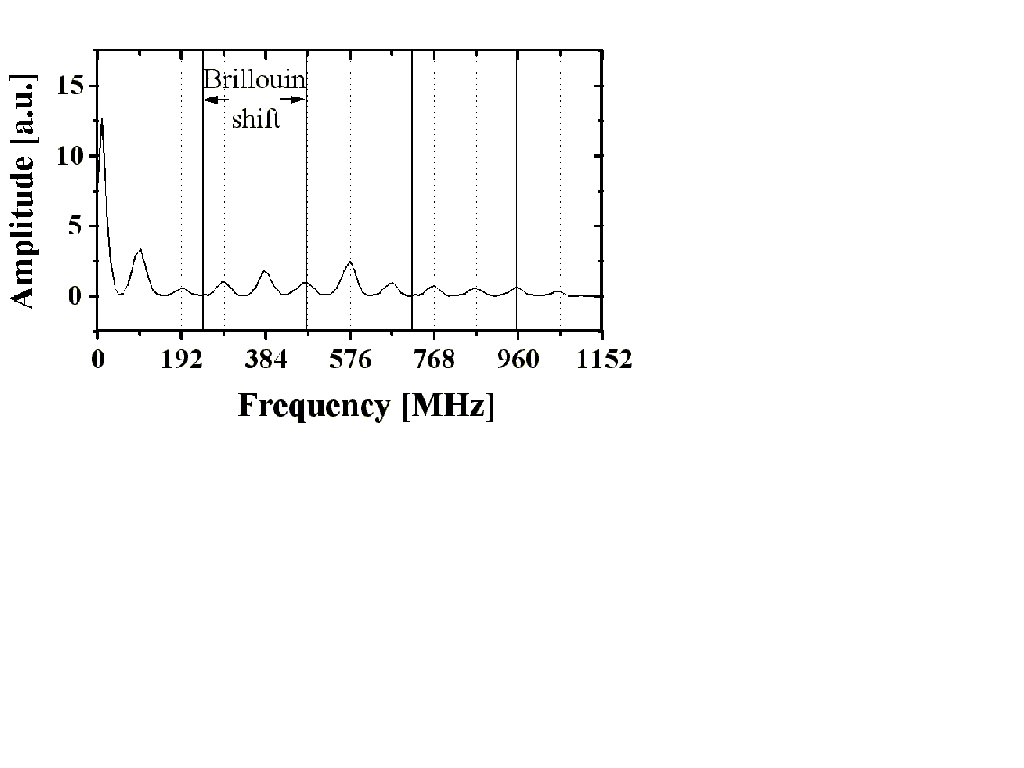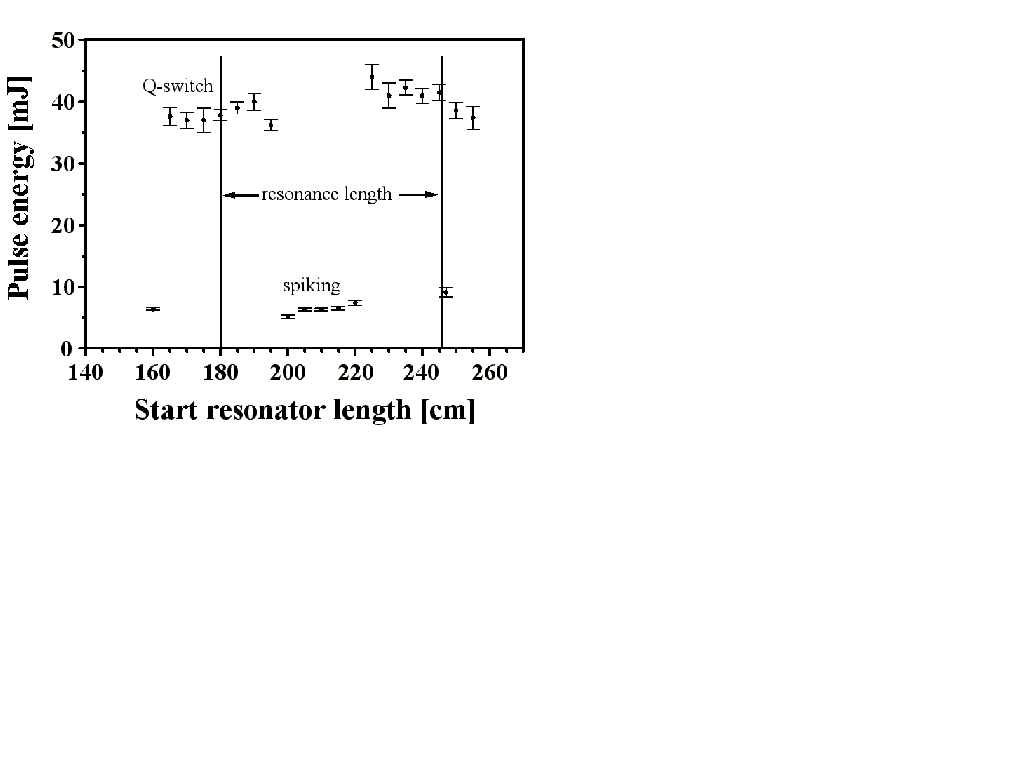 ---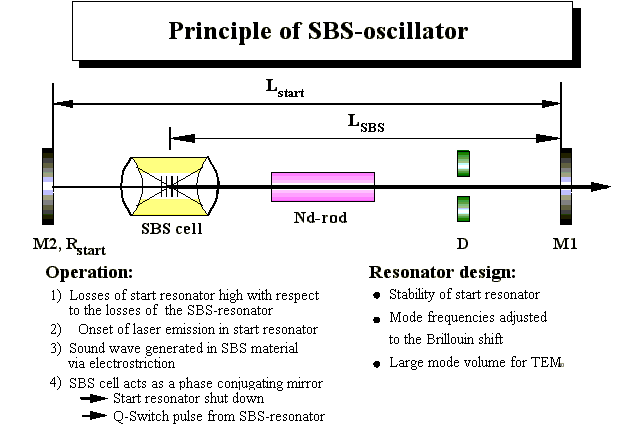 ---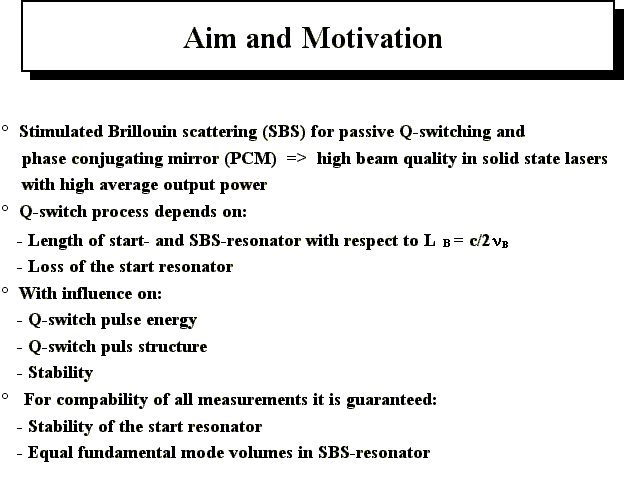 ---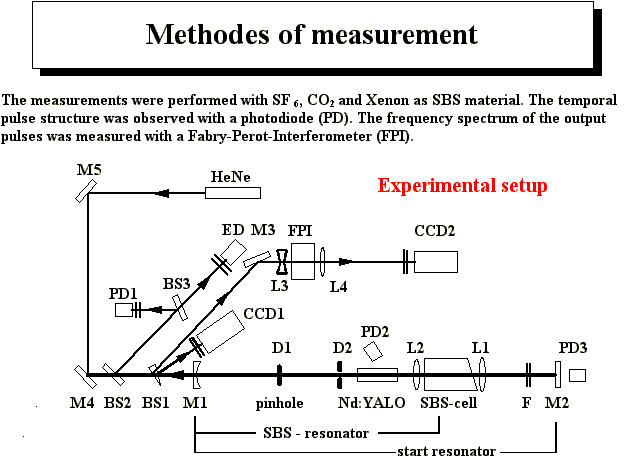 ---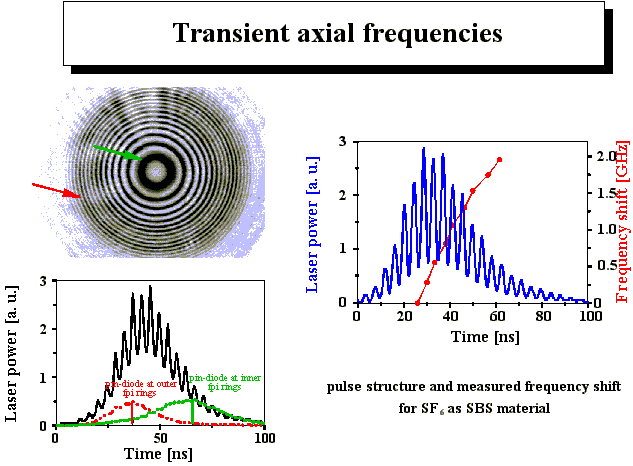 ---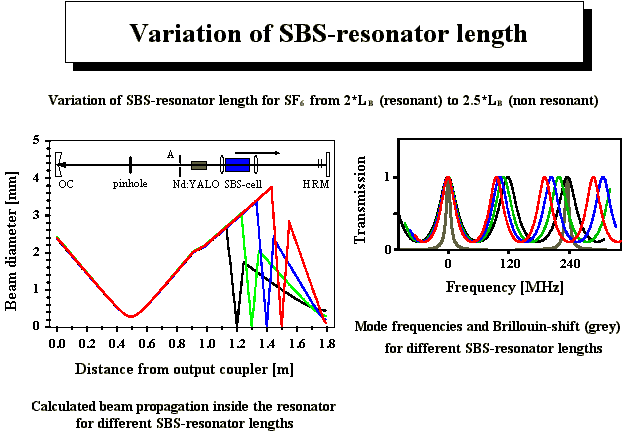 ---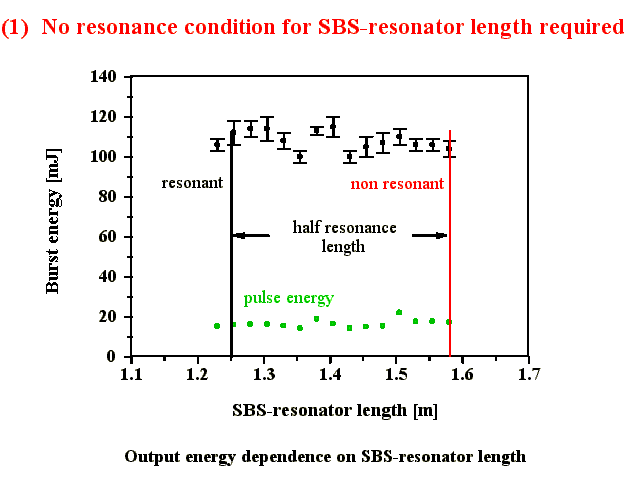 ---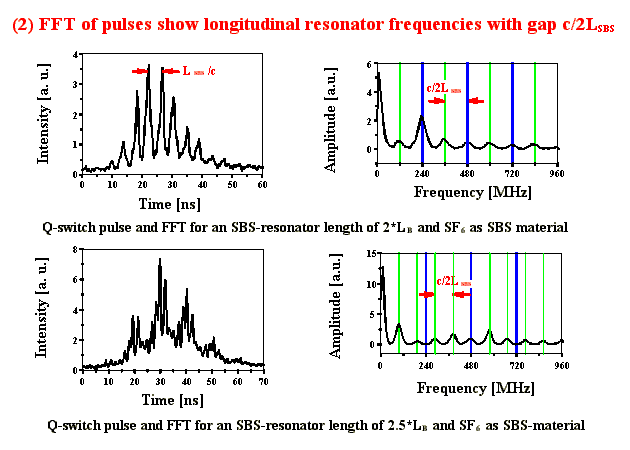 ---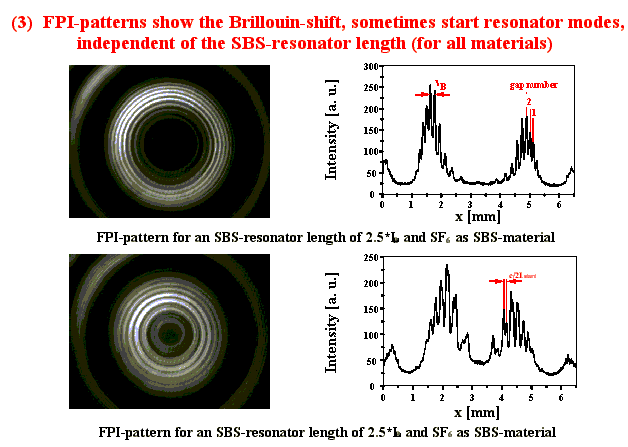 ---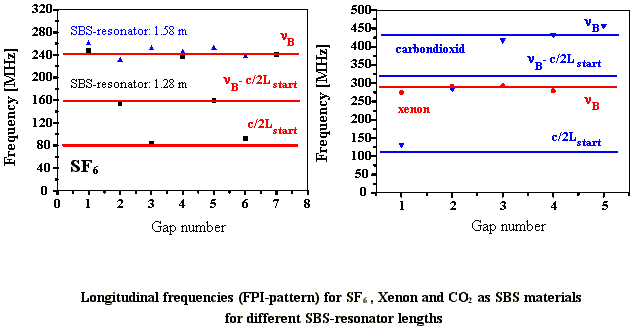 ---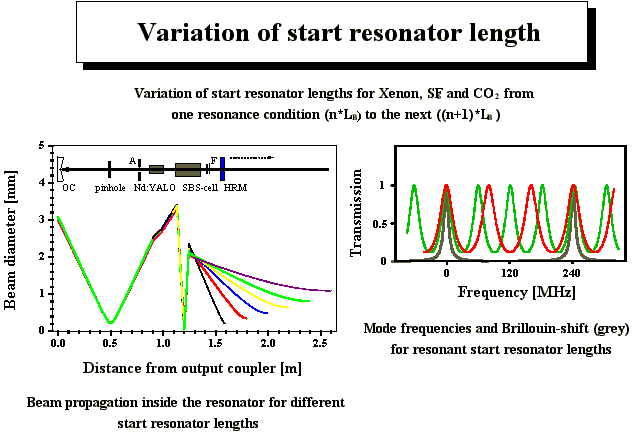 ---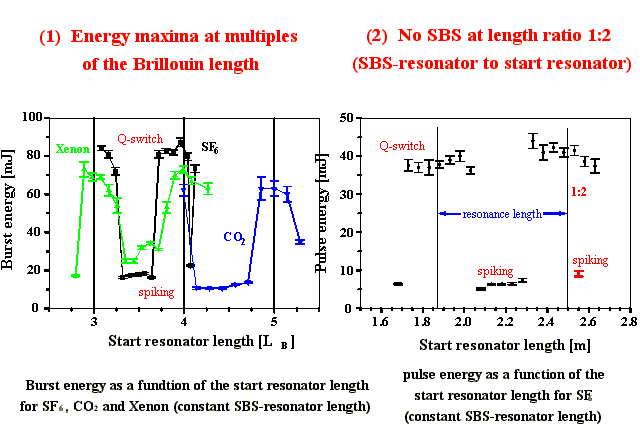 ---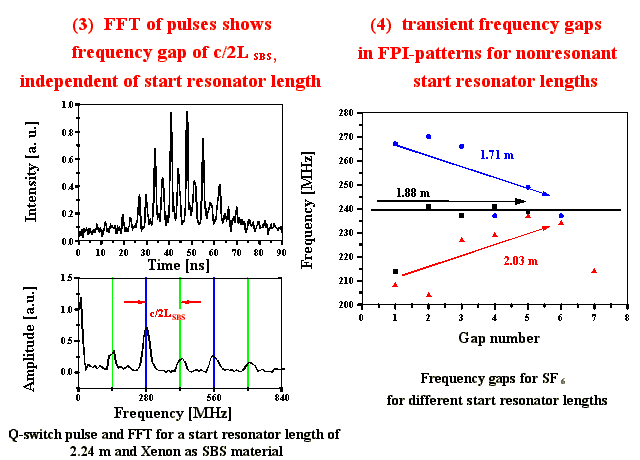 ---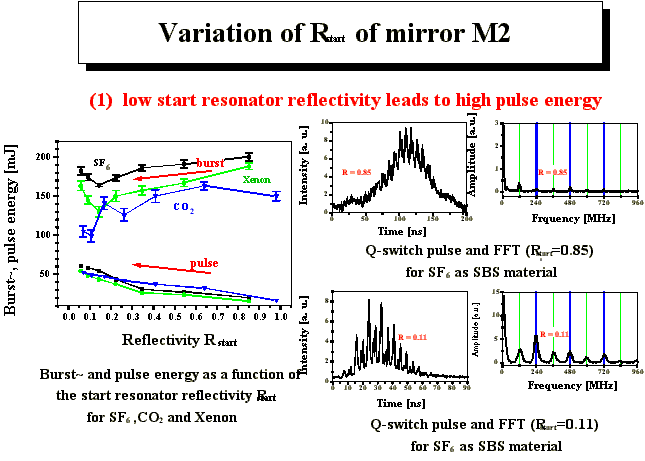 ---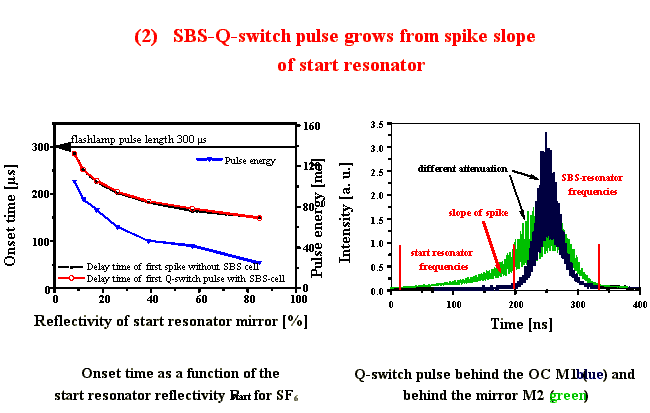 ---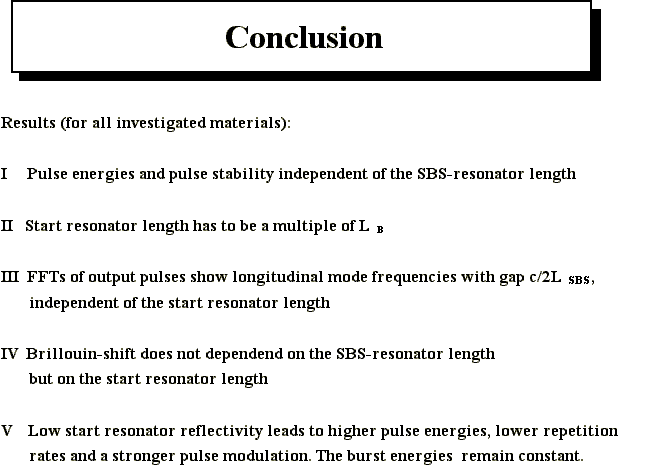 ---
mittler@rz.uni-potsdam.de